By Satish Sekar © Satish Sekar (April 30th 2020)
Incredible
Only in Africa could this happen. The incomparable Zambian legend, Godfrey Chitalu set four records in 1972 – yes four – and was credited with none of them. In fact, there's another two that he held at the time that was not credited either. They waited until those two records were broken to acknowledge them.
Chitalu's record of 81 goals in 1968 was recognised after both Gerd Müller and Lionel Messi had broken it – Chitalu's feats in 1972 were conspicuous by their absence.
The Transfer Record
Chitalu had a reputation – he tolerated no nonsense. He was frequently kicked by defenders, so he'd kick them back or even get his retaliation in early. He served a few suspensions in those days, but Chitalu was far more than that – he was a character. In a match against City of Lusaka at the Woodlands Stadium in 1967, he received a second booking for giving the referee the name of his hero, Dennis Law, when the referee asked for his name. He had to be escorted from the pitch. He was given a lengthy ban. The following year he was given the responsibility of captaincy – a plan to calm him down. He was Kitwe United's youngest ever captain at that time. He responded by setting the scoring record, at least 81 goals.
He set records for being top scorer, even in seasons interrupted by suspensions. The story of his acrimonious transfer is a record-breaker too. According to legend, he disappeared, turning up in Kabwe later. Former teammate, Edward Musonda, later claimed that he and a famous Kabwe Warriors teammate went to Kitwe and convinced Chitalu to come to Kabwe with them.
Another teammate, Edward Kalenga claims that he and a colleague went to get Chitalu. Possession, as they say, was nine tenths of the law.
This is far from the only such story. A great story, but Kitwe United were livid and understandably so. They demanded a big fee of 15000 Kwacha – the previous record transfer in Zambia was K2000. After a bitter dispute, a figure of K3500 was finally agreed. It caused Chitalu to miss 6 weeks of the season, but he still shared the top-scorer award for 1971 for his new team, Kabwe Warriors. The next year he would tear up the record book.
Record Breaker
Chitalu led Zambia's scorers' charts five times. The first time was as a 21-year-old Kitwe United player in 1968. His 81 goals broke the record of 75, set by Pelé in 1958. The significance of this has been missed. It means that Chitalu held the calendar year, and season records from 1968 – bizarrely that is credited in 3rd place to West Germany and Bayern Munich legend, Gerd Müller, and Barçelona and Argentina great, Lionel Messi after 2012. Why does 1968 count for Chitalu, but not 1972?
In 2012 then FAZ President, and undoubtedly one of the greatest players ever to play for Zambia, Kalusha Bwalya, stood tall for his hero, Godfrey Chitalu, in an interview for Goal.com.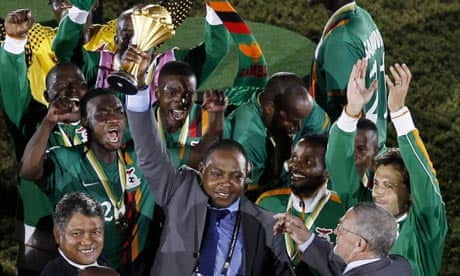 "It is fact that he scored 107 goals in a single year," Bwalya said.
"It is a well-known fact in Zambia.
"I remember too that he was honoured in France for the feat, there was a ceremony in his honour."
But Bwalya had actually underestimated the achievement of his hero. Chitalu had an African Cup of Champions Clubs record missing from that tally for the year – actually, he had two African club records missing. He had actually scored at least 116 goals in 1972.
Africa Unite
Coming into 1972 Chitalu ruled the roost, but nobody realised. The Zambian Goal King held two World records – we'll come to Pelé in another article – the single season and calendar year records.
Before the Zambian season started, Chitalu got straight into the groove by setting a CAF African Cup of Champions Clubs record. On January 23rd he scored a brace in the first leg of the First-Round tie against Lesotho's Champions, Majantja, in Maseru's National Stadium. In the second leg in Ndola's now destroyed Dag Hammarskjöld Stadium, a fortnight later, Chitalu netted seven in the 9-0 thrashing.
While Kabwe Warriors' 9-0 record has been beaten by Raja Casablanca, Difaâ Hassani d'el Jadida and then Mamelodi Sundowns, Chitalu's have not. He remains the African Cup of Champions Clubs (and its successor, the CAF Champions League) record holder for a single match and in 1972 for a tie as well. The single match record still stands almost 50 years later.
These are the nine goals missing from Chitalu's actual tally for 1972.
Any Excuse Will Do
"We find the failure by CAF to recognize this unheralded achievement, a monumental omission in the history of CAF competition, and an affront to Ucar and indeed Zambian football," Kabwe Warriors' Chairman, Hayden Dingwall, said.
So why were they excluded? At first, they were not included because they were scored before the Zambian season had started. While that matters for a season record – Zambia's began in February and ended in December 1972 – how can that affect the calendar year record?
A 48-year, and counting, injustice occurred. Both West Germany's and Spain's seasons cut across years. Gerd Müller's record of 85 was for the calendar year 1972, not the season 1971-72 or 1972-73, and Messi's 91 was for the calendar year 2012, not the season 2011-12 or 2012-13.
So Chitalu's year defied the calendar – his started with Zambia's Charity Shield on February 27th.
But despite that, Chitalu's 1972 season tally still beat Messi's 2012 tally by 16 goals and Müller's entire 1972 by 22.
While Müller and Messi got full years to score their goals for the year – 366 days as they were leap years – Chitalu's calendar year was just 309 days.
Remarkably, it took almost half a century for this to be noticed. Nevertheless, it also means that Chitalu holds the single-season and calendar year records and has done for over half a century.
As Kabwe Warriors' Chairman, Hayden Dingwall says, "We sincerely hope the records can be put straight and the great Ucar receives the honour he deserves."
Chitalu's tally for 1972 is at least 116 goals.