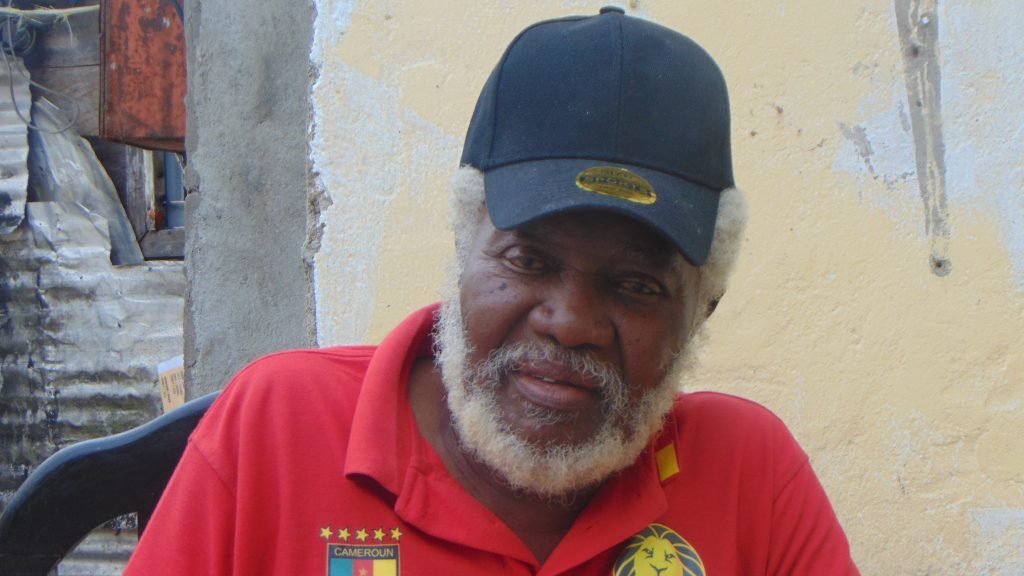 By Satish Sekar ©Satish Sekar (February 1st 2022)
Icons
Among Cameroon's neglected football icons are Léa Eyoum Charles and Ricardo Elamé-Manga. They sit in their homes waiting for a call or letter from CAF (the Confederation of African Football) the LOC (Local Organisation Committee) of the Africa Cup of Nations (AFCON), or a tournament sponsor or Cameroonian football's governing body FECAFOOT. Cameroon's second AFCON has reached the business end of the tournament – Charles played in their first AFCON half a century ago, and both are African Cup of Champion Clubs champions – a time when Cameroon's clubs were a dominant force in African football. Neither of them had been invited to attend matches at this Africa Cup of Nations or be part of it. In fact, they have heard nothing until I approached Sue Destombes. She is the General-Secretary of the Council of Southern African Football Associations (COSAFA) and asked her if there was anything that she could do to help Charles – I didn't know about Elamé-Manga then.
She said she would try talking to the General-Secretary of CAF, Véron Mosengo-Omba, but that she could not make any promises. We both thought that it was too late, but nothing ventured, nothing gained. Destombes did wonders. She managed to get tickets for Léa for the quarter-final, Cameroon versus Gambia – Douala's last match at the Japoma Stadium – but he never collected them.
Oryx Douala's Legacy
During the quarter-final a radio journalist, Albert Alex Ebongue – more of him in later articles – told me he could find an Oryx Douala legend. That was one thing he delivered – he would later discover that I understood more French than I had let on. But at that time, he seemed honest and committed.
Elamé-Manga is one of the few members of the Oryx Douala team who won the tournament in 1965 still alive. At the invitation of Kwame Nkrumah, the final stages of the tournament was played in Accra. Knowing that Kumasi Asante Kotoko was one of Oryx's opponents I thought that Ricardo was mistaken. He wasn't. The last four of the competition were indeed hosted in Accra and Elamé-Manga's recollections were impeccable, remarkable for an 80-year-old man.
Oryx had to organise rapidly. There was little time to make arrangements after the letter of invitation arrived at FECAFOOT, so Oryx's then President Dayas Lord paid for it all himself. He was determined to ensure that Cameroon's best club at the time would defend the country's honour on the pitch. After they won the trophy, the players were entertained by government officials including Paul Biya, later to become the long-time President of Cameroon – Olembé's stadium is named after Biya. Other dignatories attending the event included Biya's predecessor Ahmadou Ahidjo – Yaoundé's Omnisport Stadium is named after Cameroon's first President.
Different Times
The Oryx players received 10,000 Central African Francs FCFA a pittance compared to bonuses now. Comparatively insignificant matches now receive several times that amount, but that was then and this is now. It does, however, illustrate the difficulties. Such a bonus, even if there was anything left, is worth next to nothing next to nothing now.
Elamé-Manga has little to show for a life in football. He played in an era long before there was money in the game, especially in Africa. It was just five years after the independence of Cameroon.
Ricardo Elamé-Manga's situation is worse now. He has no independent income, and his abode gives away the situation he is in. His achievements came long before the Indomitable Lions roared and became one of the top international teams in Africa. But would Cameroon's Lions have been able to roar at all if Oryx hadn't roared first and laid the foundations for Canon Yaoundé and Union Douala to continue the trend began by Oryx.
Incredibly Underated
Léa Eyoum Charles is surprisingly underrated in his native Cameroon. He is the Ballon de Bronze winner for 1971. Despite winning the African Cup of Champions Clubs in 1971 with Canon Yaoundé, the second Cameroonian team to win the competition after Oryx Douala won the inaugural edition in 1965, Charles does not get the appreciation he deserves. Although Canon Yaoundé beat Asante Kotoko in the semi-final, the two players ahead of him in the vote for African Player of the Year were Ghanaian and Asante Kotoko greats, Ibrahim Sunday and the late Robert Mensah. Charles was philosophic about it, saying it was up to the journalists France Football Magazine organised to vote on who was Africa best for the year.
Charles, born into a family of footballers in 1951, had an incredible year. He only joined Canon Yaoundé in time for the quarter finals of Africa's top club competition. He played just 6 matches in that competition but scored 7 goals. His strike partner scored nine, but despite his team scoring 27 goals in ten matches, the late Cecil Jones Attuquayefio, then playing for Ghanaian team, Great Olympics, was credited as the top scorer with 6.
Léa did not understand why people were saying that a Ghanaian player was the top scorer when two Cannon Yaoundé players had scored more. In that period not many matches were adequately covered, especially by European journalists, so errors occurred in the reporting and he wanted this to be clarified and accurately reported by journalists. He called on Wikipedia to find accurate sources and correct these errors.
He also pointed out that Wikipedia's list of scorers had wrongly credited another player as having scored one goal. He had scored against eventual beaten finalists Mali and not. Léa was the first Cameroonian player to ply his trade in France, opening the door for others, including Roger Milla. Léa Eyoum Charles is one of Cameroon's greats. He was included in CAF's list of the top 200 African players in 2006. He expressed disappointment that despite his achievements he has not been included in Cameroon's second AFCON or even the CHAN last year. Léa called on football to do more for former footballers, especially those who played in times where there was not much money in football.