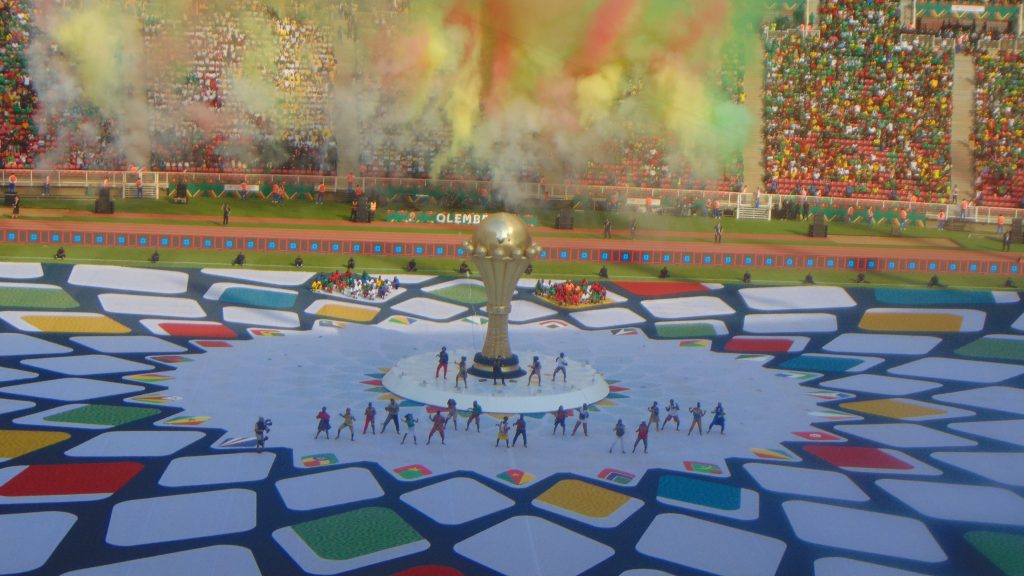 By Satish Sekar at Yaoundé's Olembé Stadium © Satish Sekar (January 9th 2022)
Humiliation
The opening ceremony of Cameroon's second Africa Cup of Nations (AFCON) – the first was fifty years ago and won by the supposed minnows Congo formerly known as Congo-Brazzaville – was impressive. However, the treatment of Gianni Infantino, spoke volumes of how far the FIFA President's stock has fallen in Africa.
Once seen as Africa's champion in world football, Infantino's efforts to force the 33rd AFCON to be postponed again or even cancelled was seen as sacrificing Africa's top competition to suit his and Europe's interests – hence the reception. He has also been accused of using the continent to trial ideas that Europe had rejected. This has resulted in Infantino's reputation in the continent plummet.
Infantino was booed by the crowd and kept at arm's length by Cameroon's President, Paul Biya. Ordinarily, FECAFOOT's President, Samuel Eto'o Fils would have hosted Infantino. He didn't – another snub to the FIFA President.
The Legend Stands Tall
Eto'o is without doubt one of Africa's greatest ever legends on and off the pitch. He is also a new broom demonstrating that recently retired former players still have a lot to offer the African game, including leading their nations' Football Associations. Zambian great, Kalusha Bwalya, never won AFCON as a player, but he was the President of Zambia's FA when the Chipolopolo won their only AFCON title a decade ago, fittingly at the site of their greatest ever air disaster – the worst to affect any international side, the Gabon Plane Crash.[1]
Eto'o has won AFCON as a player and has the chance to do so as the supremo of Cameroonian football. He would be the first to win AFCON as a player and, also as head of his country's FA. Eto'o is also the leading scorer in AFCON history with 18 goals – he broke the record of the late great Ivorian, Laurent Pokou in Ghana in 2008.
He insisted that no postponement of AFCON would be tolerated, and he was right. Cameroon's AFCON must be played now – it is the only suitable time of year for many reasons, including climatic ones.
Demeaning AFCON
Infantino wanted the tournament postponed. But for what purpose? Cameroon's AFCON had already been postponed in 2019 and 2021, yet FIFA's president wanted it to be shunted around again. Why? Previously, AFCON was defended tooth and nail by FIFA. Foreign, especially European, clubs knew well that if they blocked players going to play for their countries in Africa's biggest international competition, they would face punishment – the players could not play for their clubs during AFCON. It was a Confederation of African policy backed by FIFA. Previously, it protected the integrity of AFCON.
Players had to report two weeks before the tournament started. Medical issues required assessment by the competing nation's medical staff. They were not obliged to accept the club's word. But this AFCON was different. Infantino and FIFA agreed that clubs could delay the departure of players to AFCON until January 3rd, less than a week before the prestigious tournament was due to start.
A Mockery
This made a mockery of camps and preparations for the AFCON. It cost teams the opportunity to acclimatise, play friendlies and more. The defending AFCON champions, Algeria, reacted angrily to the Gambia's failure to play a friendly that the latter had requested. Gabon's captain Pierre-Emerick Aubameyang, ostracised by Arsenal's manager Mikel Arteta, tested positive for COVID-19 after partying in Dubai. That was widely covered. The difficulties faced by other AFCON finalists due to positive Covid tests were not.
The January 3rd departure date provided a further loophole as clubs claimed that they had not been properly informed that players were wanted by their nations in time. In previous AFCONs FIFA had clamped down hard on such conduct. This time the clubs ruled the roost.
Watford denied Nigerian forward, Emmanuel Dennis, the opportunity to play in this AFCON, claiming that the required paperwork had not been submitted on time. If that is true, the Nigerian Football Federation dropped the ball, but Dennis was not the only Super Eagle to miss out. Victor Osimhen recovered quicker than expected from a serious facial injury. He had made it clear that hewanted to play in this AFCON. On the eve of his departure Napoli announced that he had tested positive for COVID-19 for the second time. There was no independent confirmation of this even though the Super Eagles' medical staff were entitled to verify it. Surprisingly, they did not. It will be interesting to see if he recovers quickly enough to play for Napoli during this AFCON and if he does, what the Nigeria Football Federation (NFF) do about it.
Veteran Nigerian striker, Odion Ighalo, was also refused permission to go by his Saudi Arabian club, Al-Shahab Riyad. He is unlikely to get another chance. And having thwarted Dennis, Watford turned their attention to Sénégal's Ismaila Sarr, claiming they had agreed to release him for AFCON if the Teranga Lions qualified for the knock-out phase. What? Since when has clubs been allowed to drive a fleet of coaches and horses through the spirit of AFCON and on the watch of the 'champion' of African football?
The message was clear – it was open season on AFCON.
But why?
---
[1] Almost three decades later, neither of the official reports, Gabon's and Zambia's have been published (see Broken Promises at https://empowersmag.com/empowersmagwp/2021/04/28/broken-promises/).