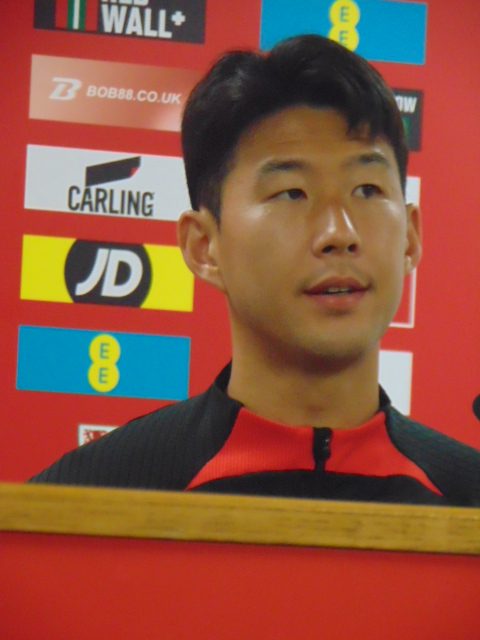 By Satish Sekar © Satish Sekar (September 6th 2023)
Important Matches
Son Heung-min makes no bones about friendlies. He sees them as an important part of preparation for the big tournaments, so they are a big deal both for him and for the team.
"Look this game means a lot," Son said. "Every single friendly game – even we are saying, look, Asian Cup is important, but as a player, or as a team I think the friendlies are the most important thing because you are playing for tournaments, to prepare the tournament, so you're coming from any time.
"From the national team is one of the players' dream to play for, so whenever it is September time, October time, is there friendly or is there any tournament? It is all important for us.
"You know obviously we are playing for win the games and preparing for the tournaments, but it is huge, huge important and you should never underrate this friendly game.
"Obviously, we never talk about this game is going to be not important, or whatever. It will be very, very important to get a results and to prepare well for the coming tournaments."
Different Perspectives
"The real benchmark starts in January, once we start the tournament in Qatar," Jürgen
Klinsmann is excited about the opportunities for South Korea and his new captain, Son Heung-min: "[T]here's an Asian Cup that we haven't won for 60 years and then there's a World Cup in America, Canada and México waiting, where I think that this team is growing," Klinsmann told a pre-match press conference this evening.
"This talent is getting better and better and there's a huge opportunity, you know, for Korea [to] go much, much further than we did in the last World Cups, and this is the goal and this is why I took this job to help them believe step by step to go much further in the World Cup than they did in last three, four World Cups and I have him [son] on the side, it's just a joy, Klinsmann said.
But while Klinsmann and his recently appointed captain, Tottenham Hotspur's Son Heung-min are enthusiastic about friendlies Rob Page makes no bones about his preference. Tomorrow's match is one he wishes was not taking place – a sentiment that will hardly encourage Welsh supporters to turn up at Cardiff City Stadium on Thursday night. Usual skipper Aaron Ramsey is being rested and Spurs' new £47.5m signing Brennan Johnson is expected to warm the bench ahead of Monday's vital qualifier against Latvia in Riga.
Importance
"We're not underestimating this Welsh team for one second," he said. "We take them very, very seriously.
"We have a lot of respect for them and we will try to play the game to our strengths and we have a couple of very, very talented players with us.
"We have to grow as a team and we have to do things a bit better than we did in the previous four games, but this growth is important, step by step towards January, then we go to Qatar for the Asian Cup."
There is however, one issue. "Problem-wise, obviously, Kang-In Lee who plays for Paris Saint-Germaine, and very exciting player, but he had a muscle issue and he's had a setback, and we still have to hope that he's going with the Under-24s to China," Klinsmann said.