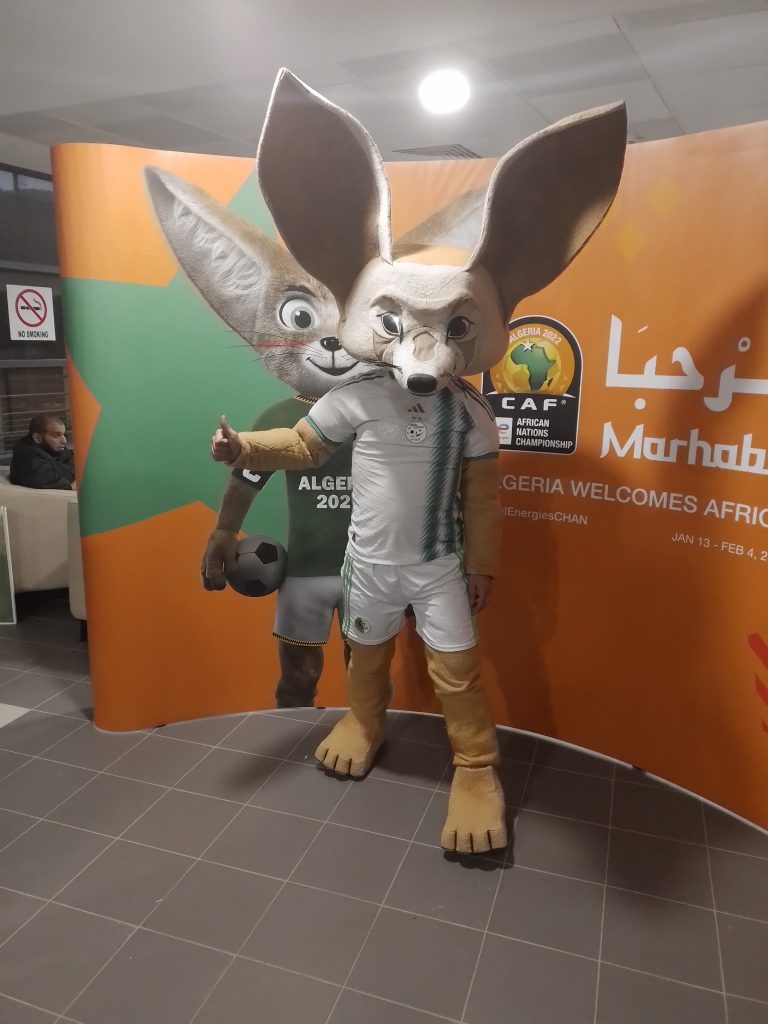 By Satish Sekar © Satish Sekar (February 1st 2023)
Legends
It's often said, 'Don't meet your heroes.' Well I have and it wasn't a let-down – far from it – it was a great honour for me. A gentle unobtrusive gentleman, like the late Zambian icon, Ginger Pensulo, the current Vice-president of FAF (the Algerian Football Federation), Mohamed Maouche also used his immense football talent for the greater good of Algeria, Africa and football. Maouche had been pre-selected for France's World Cup squad, but chose to help organise the FLN Team instead. Maouche escaped to Switzerland, but after not finding those he was due to meet, he returned to France. Finding out that the others had escaped France, he tried to leave again but was captured and imprisoned. By 1960, Maouche managed to join the others in Tunis.
He is an exemplary story of a wonderful human being who is a credit to football. His is a story of sacrifice in a sport too often condemned without a fair hearing. While the elite today may deserve some condemnation, Maouche is the opposite. His story is one of sacrifice, decency – the very best that football can offer. This is a story football should be proud of. Africa and its football should shout his name loudly – cherishing and celebrating the contribution that Maouche made not only to the sport he graced but also to a continent which benefited from a team of heroes. The glorious FLN Team and its contribution should never be forgotten, and not just by Algerians.
Continues to Serve
Well into his 80s, Maouche continues to serve African football. He was appointed Vice-President of FAF on November 1st 2021, a very fitting day in Algerian history. It was the 67th anniversary of the start of Algeria's war for independence, which was led by the Front de Libération Nationale (FLN – the National Liberation Front). While football often gets a bad press sadly reminiscent of Mark Antony's oration at Julius Cæsar's funeral 'the evil that men do lives after them, the good is oft interred with their bones,' the FLN team proved the opposite. Maouche is one of only three members of that heroic Algerian team still alive.
The magnificent Rachid Mekhloufi and Abderrahmane Defnoun are the others. Maouche is the only one of three still living in Algeria. Mekhloufi lives in neighbouring, Tunisia, and Defnoun in France. Sadly both Mekhloufi and Defnoun are unwell.
However, Algeria rightly reveres and cherishes these footballing icons of the liberation struggle – a classic example of football and politics not only mixing but doing so for the greater good of humanity. Algeria's treatment of the FLN Team is an example for all Africa.
Meanwhile, his playing days long past, Mohamed Maouche continues to serve Algerian football.
Among the greats of Algerian football that he coached is the late libero, Miloud Hadefi, after whom Oran's Stadium is named. Hadefi impressed the late great Pelé (Edson Arantes do Nascimento) who described him as Africa's Beckenbauer. It is the only stadium used in Algeria's African Nations Championship (CHAN) that is named after a footballer – all the others are named after events in Algeria's liberation struggle or after African liberation struggle icons.
The Birth of an African Legend and Hero
Algeria's battle for independence against colonialism, white supremacy and the horrors of foreign rule was pockmarked with gross brutality. It threw up martyrs and also heroes who survived to tell the tale.
Mohamed Maouche is one such hero. He is 86 years-old and doesn't look it. A decade before I was born, Maouche showed immense talent. He began playing as a teenager in 1953 for the Algerian club AS Saint-Eugène, a club based in a French section of Algiers. It was established in 1908. It enjoyed success in the 1930s but no longer exists as it was dissolved in 1962 when Algeria secured independence.
Nevertheless, Moauche is regarded as one its great former players. Another is his contemporary, the late goalkeeper Abderrahmane Boubekeur, who was also a teammate on the FLN Team – Boubekeur died in France in 1999.
Even as a youngster Maouche's talent was undeniable – it takes a special player to be entertained as a potential replacement for the legendary Raymond Kopa at Stade de Reims in 1956 even if the weight of expectation and return of Kopa ended such hopes.[1]
Maouche was part of the FLN Team, which escaped from France to Tunis, although his path to Tunis was unusual. They played exhibition matches, including against Yugoslav and Hungarian opposition. These matches and the FLN Team itself helped to raise international support for Algeria's cause.
Afterwards, he was loaned to French team Red Star, briefly played for Stade de Reims and finally returned to AS Saint-Eugène. Maouche went into coaching after hanging up his boots. Among the teams that he coached were the unfancied Espérance Sportive de Mostaganem, which he led to the final f the Algerian Cup, USM Algers. He was also part of the Algerian national team set up in 1981
The FLN Team was disbanded after Algeria won its fight for independence. In 1962, its job done, the FLN Team became an integral part of Algeria's and Africa's football history, an example of the very best that football can achieve.
---
[1] Born Raymond Kopaszewski in 1931, Kopa had his greatest success in French football for Stade de Reims between 1951-56. He spent the next three seasons with Real Madrid, winning the European Cup every season he spent there. He returned to Reims in 1959, remaining there until his retirement in 1968. He was one of France's great players after World War II. He played in the FIFA World Cups of 1954 and 1958 – the latter resulting in a fantastic showing, but it could have been better. France benefitted from African players, including the Moroccan born and nurtured Just Fontaine.
Two years later – the World Cup looming, the great Moroccan born and nurtured Abdelkader Larbi ben M'Barek was finished – he had been injured and replaced by Kopa between the World Cups of 1954-58.
Members of the FLN Team gave up the opportunity of playing for France in that World Cup. They would never have the chance to play in a FIFA World Cup. Kopa died in March 2017.