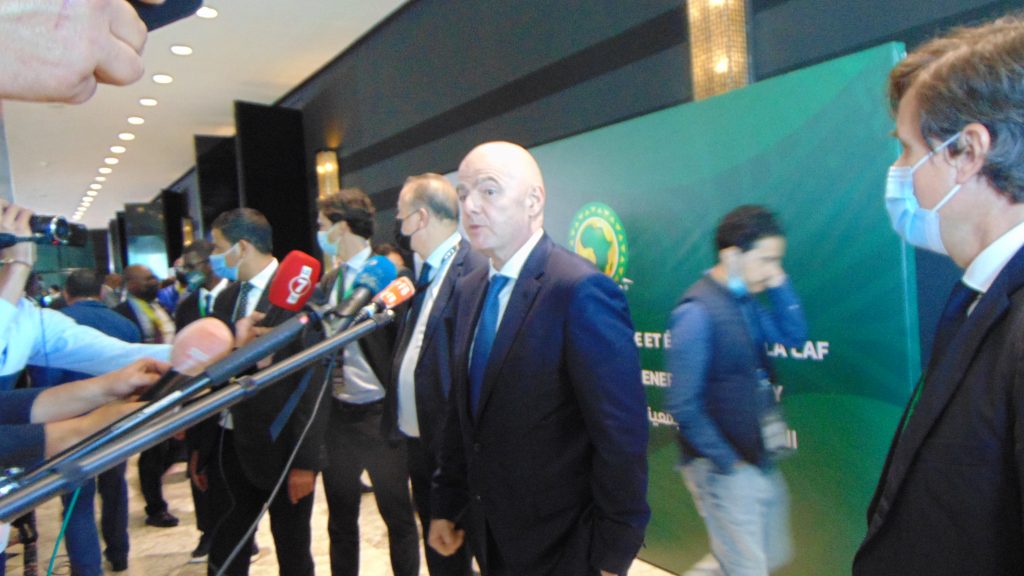 By Satish Sekar at the FNB Stadium, Johannesburg © Satish Sekar (September 6th 2021) (Updated November 18th 2021)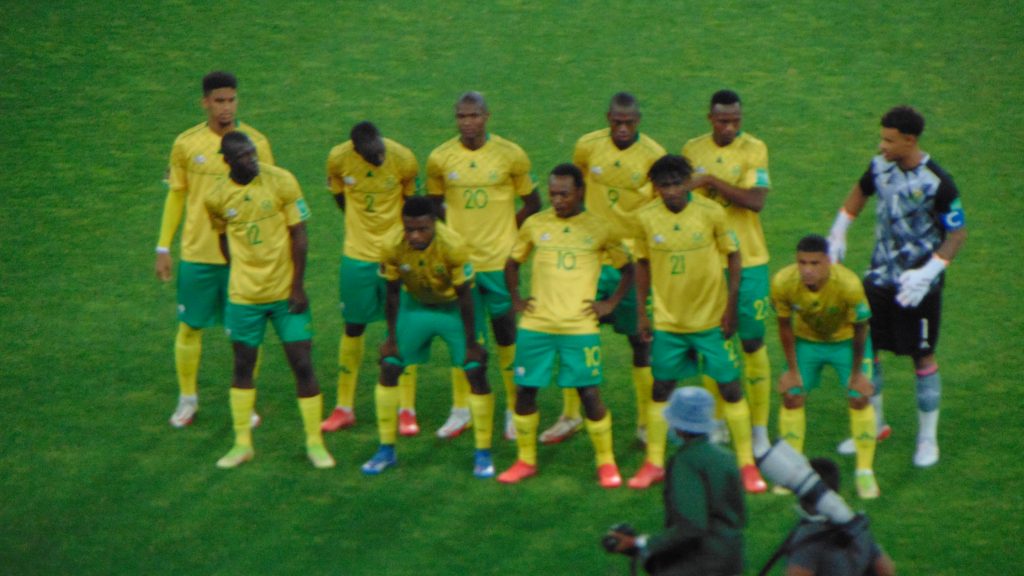 Satisfied
The Bafana Bafana's recently appointed coach, Hugo Broos, was satisfied with the 1-0 win over Ghana that took South Africa to the top of Africa's World Cup Qualification Group G.
Broos singled out Ethan Brooks for praise as he detailed his plans to give youngsters a chance to establish themselves. He plans to build a team for the future. He was pleased with the progress made and determination that the team showed against the more experienced Black Stars of Ghana.
Despite his satisfaction – they won and went top of the group – it could have been better. In fact, it should have been. Percy Tau had a perfectly good goal wrongly ruled out for offside.
Bad Call
2017 AFCON winner Broos called for VAR (Video Assistant Referees) to be introduced for World Cup Qualification matches. Broos secured his second win as coach over Ghana and the Bafana Bafana's first competitive win over Ghana's Black Stars thanks to Bongokuhle Hlongwane's late strike, but it should have been different.
Vice-captain Percy Tau timed his run well to head in Mobbie's cross from the left, but Zambian referee Derrick Kafuli ruled it out for offside. The call was incorrect and should not have happened, especially as assistant referee, Kabwe Chansa, had a perfect view of the action. Nevertheless, absent VAR the goal was disallowed.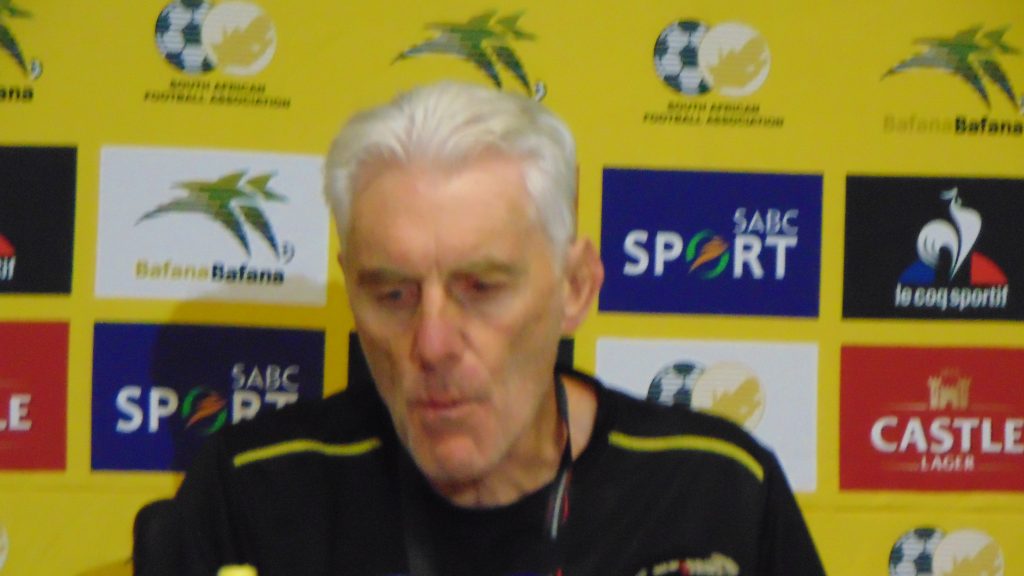 Broos, responded to my question on whether VAR should be used in such matches.
"I think in such important games there has to be VAR," he said. "The goal could have decided or not have decided the game.
"If the goal of Percy is a legitimate goal and imagine that the scores stayed 0-0 then we don't win.
"So in such important games, I'd like to have VAR."
Consequences
But this was even more important as it affects goal-difference and also goals scored, both of which are used to split ties on qualification. Such errors could decide who goes to the World Cup, the most important international competition in world football, and it could cost a coach their job – it is a results-based sport after all.
Two years ago, I interviewed then Bafana Bafana coach and current Kaizer Chiefs coach, Stuart Baxter. The conversation included VAR and errors by officials. He offered interesting insights. It was featured in Kick Off (https://www.kickoff.com/news/articles/world-news/categories/news/afcon-news/afcon-2019-stuart-baxter-on-var-debut-and-referee-apology-for-nigeria-off-side-calls-at-fnb-stadium/658876).
"I think the reason the people within the game support VAR – let's say the majority of people – is because the game, the consequences of a bad decision, of a blatantly wrong decision now are so much more important," Baxter told meexclusively.
"When I say important, the people that are investing the budget of a small country in their football clubs now. People are winning or losing a game, which means the livelihoods of so many people."
It is obviously important to get decisions right. The consequences now are very high and it's not difficult to correct errors – that is the point of VAR.
"I have to say it's important that we get those decisions right, that when it's a penalty and the incident took place four metres inside the penalty area, the referee because of a weak mentality cannot blow and point to an inch outside of the box any more," Baxter said.
And as for referees apologising for errors?
In an AFCON qualifier between South Africa and Nigeria, the referee, Bakary Gassama, got a decision on Ahmed Musa wrong. He later apologised to Musa. Baxter felt this was too much. It was an error but there was no need to apologise according to Baxter.
"I didn't think it was a bad decision," Baxter said. "Watching it again in slow motion I understand it was the wrong decision, but there were other wrong decisions in the game.
"VAR would have checked that one."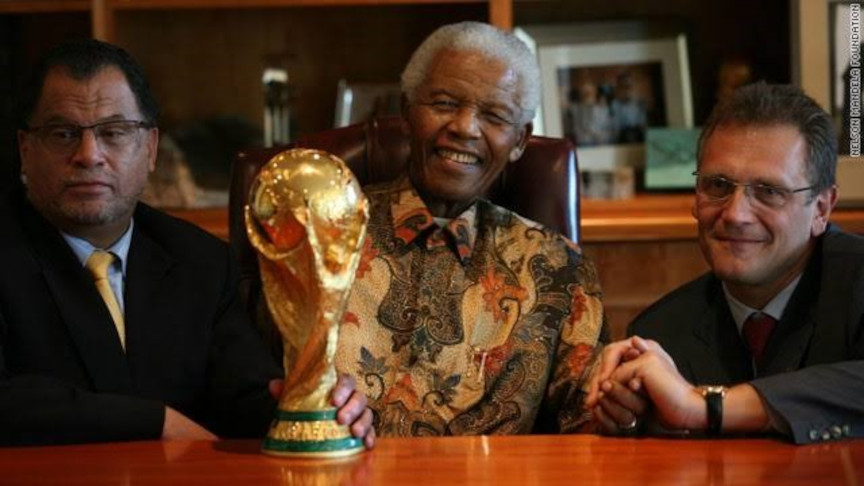 The Bad and the Ugly
Every team have tales of bad decisions, injustices, gross ones even and great opportunities lost. Baxter is no different and he makes a great point on consequences when the line between success and failure is so thin and potential consequences dire. Nevertheless, he accepts that refereeing is difficult.
He illustrates his point with a match that could have cost the Bafana Bafana dear. Having trounced the Seychelles 6-0, South Africa was held to a 0-0 draw in the return match on October 16th 2018. Baxter points to a crucial decision by Tanzanian referee, Mfaume Nassoro, that cost his team points. It could have resulted in worse consequences.
"When we played the Seychelles in the Seychelles, we had a 185% penalty that we didn't get," Baxter explained.
"No-one apologised to me afterwards and said, 'I'm sorry if you get the sack, we'll come and pay your wife and your kids' food for the next two years.'"
Baxter's opinions are illuminating. He supports VAR, but over two years later, how much has changed?
The points tonight rightly went to South Africa, but it could have been different, and the consequences still might be. What if South Africa get eliminated on goal difference, or the number of goals scored?
But there were other issues too.
Shattered Windows
Broos unexpectedly won the Africa Cup of Nations (AFCON) with Cameroon in 2017, despite being hampered by the refusal of several players to answer call-ups for the tournament. The Europe-based players preferred to stay with their clubs. Astonishingly, Cameroon beat Egypt in the final to claim their fifth AFCON title, edging past Ghana into second place to the Pharaohs, who lead Africa with seven.
The absence of players for FIFA window competitions is something Broos is familiar with. It showed its ugly face again tonight. The last FIFA window was cancelled due to COVID-19 issues. South Africa is on the United Kingdom's Red List, meaning anyone visiting South Africa must quarantine for 10 days. In football terms that would mean players have to miss matches and lose match fitness. This led to British clubs refusing to release players for national duty. This occurred for World Cup Qualifying matches on a FIFA window. Ghana lost Thomas Partey (withdrew through injury) and five other England-based players as well as Mohammed Kudus who is based in the Netherlands. Jordan Ayew and Jeffrey Schlupp of Crystal Palace join Reading's Baba Rahman and Andy Yadom. Leicester City's Daniel Amartey completes the list of Ghanaians who missed tonight's match due to Britain's COVID-19 restrictions. This meant Ghana lost important players due to Britain's view on South Africa's COVID regulations and two more were absent.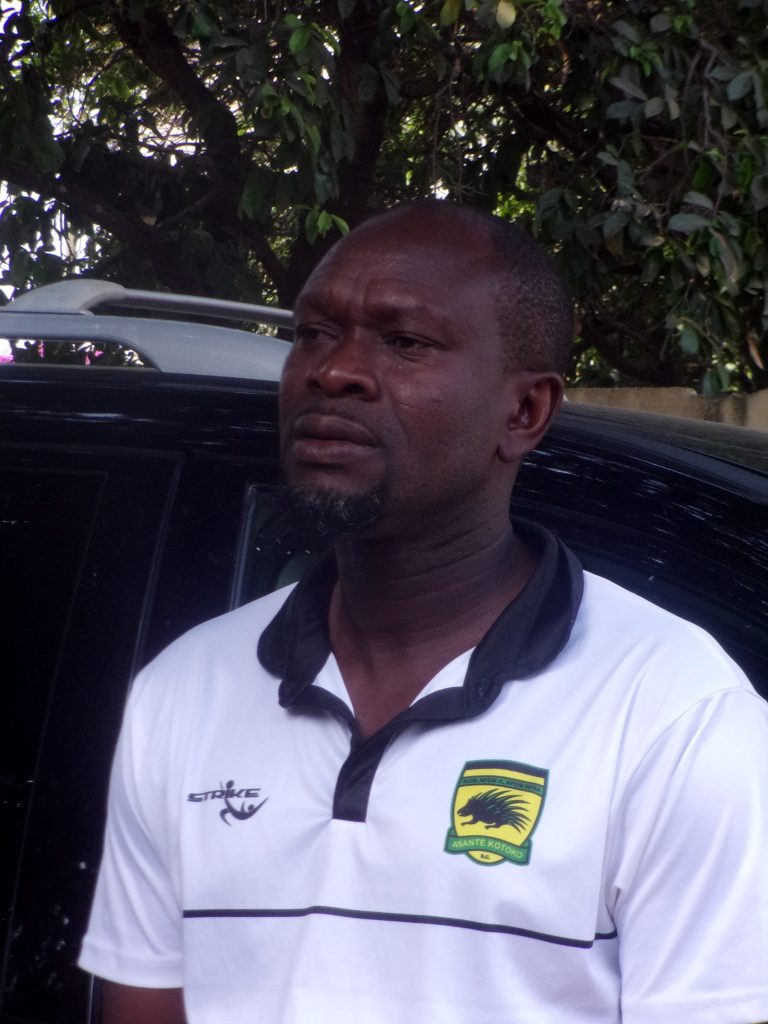 Ghana's coach, Charles Akonnor, refused to blame the absences for the defeat. He said that he expected a greater impact from his substitutions but made no excuses for the defeat.
He called on CAF (the Confédération Africaine de Football) and FIFA (the Federation of International Football Associations) to ensure that coaches got the players that they wanted for matches on the FIFA calendar such as World Cup Qualifiers.
What do FIFA windows mean if clubs can choose to circumvent them and FIFA doesn't enforce them?