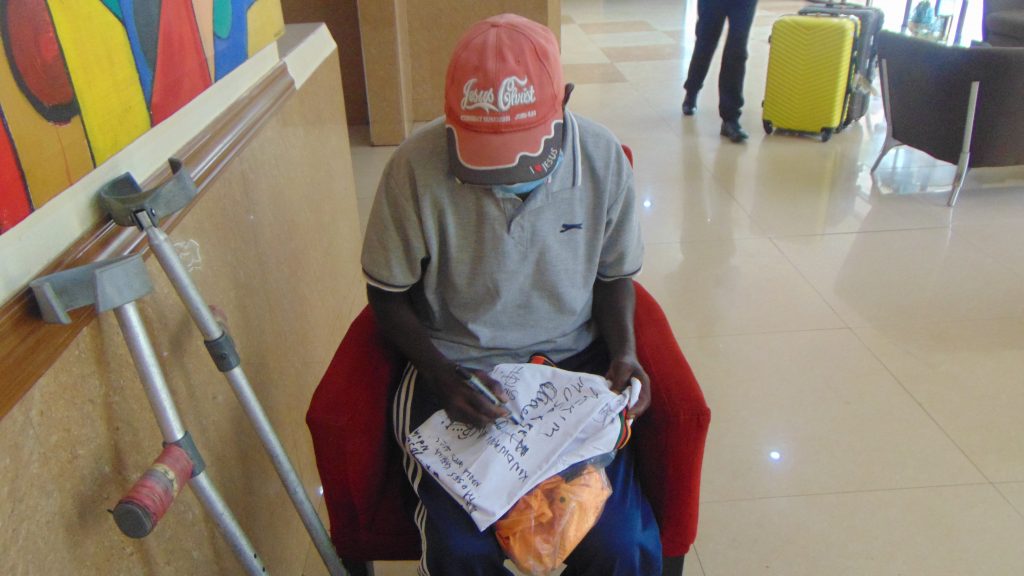 By Satish Sekar © satish Sekar (September 1st 2021)
'Musenge – One of the Best Ever' : Simulambo
Following a career-shortening foul, the elegant Mufulira Wanderers and KK11 defender Ackim Musenge was left to recuperate. He was never the same player again. The Minister of the Midfield,' Jani Simulambo had taken over the captaincy from Musenge – he witnessed the challenge that destroyed his former captain, Musenge's career. It had an effect on him.
"Thank you very much for the privilege and honour for me to talk about Ackim Musenge," Simulambo said. "I thank the Almighty God for keeping me alive to be able to answer the questions you'll be asking me.
"Ackim Musenge was a fantastic player. We were together, Zambia Schools, 1970, 1971, until we graduated into the senior team. 1973, 1974, we were together in Egypt, Cairo, at the 9th Africa Cup of Nations soccer tournament.
"Ackim was a fantastic soccer player – one of the best players Zambia has ever produced."
Humble Role Model
Simulambo learned a great deal from Musenge about captaincy.
"I learned quite a lot of things from Ackim" Simulambo said. "One of them is humility. He was very humble.
"In fact, even today I'm sure he is still humble because he is still alive. Ackim was humble on the pitch, off the pitch. He was wonderful. No wonder he was even captain at Mighty Mufulira Wanderers Football Club.
"That is one of the qualities I learned from him and I took into my captaincy, which helped me a great deal. He was very, very disciplined and I'm sure even today, he is still the same disciplined Ackim Musenge.
Wrecked
On November 6th 1979, while captaining Zambia at the (Council of East and Central African Football Associations) CECAFA Cup in Kenya Ackim Musenge was the victim of an appalling challenge which broke his leg. He was never the same player again. Attempted comebacks failed. Musenge was forced to end his playing career in 1981.
"I remember it happened in Nairobi, Kenya," Simulambo said. "It was during the East and Central Africa tournament, which we used to have every one year, or two years. It was a wonderful tournament to promote peace and unity in the region, because soccer, as you know very well, has the largest following in the whole world.
"Soccer is number one, and wherever soccer is played, people enjoy themselves to watch this beautiful game, which the British developed so much and developed from the Chinese and when they did so, they even called it a gentleman's game."
The Ball – Kick the Ball!
Even though it provided him with the opportunity to captain his country, the Minister of the Midfield remains very upset by that tackle over forty years later.
"Even today in England, they still have that prestige about the game of football, so in this match – it was during the first half and Ackim – it was a 50/50 ball, and Ackim was going for the ball, but this Tanzanian was going for his shin-bone and he broke his shin-bone," Simulambo explains.
Still Upset
"That's why the British call the game of football, foot-ball, meaning you must kick the ball," Simulambo says. "Don't kick the opponent's shin or the knee, or thigh, or don't kick his chongwe, whatever chongwe means – don't kick his chongwe. Just kick the ball, so that tackle was really – in fact, it was a criminal offence
"That player was supposed to be arrested because he ruined the career of Ackim Musenge, one of the best players in Zambia. Now, he couldn't play anymore. That was terrible. All of us were shaken by that tackle. Both Tanzanians, even Zambians, even the thousands of spectators who were watching the match, they were not pleased at all, so I remember that tackle very, very well and I'm very upset with that player who tackled Ackim Musenge like that."
Ackim Musenge never recovered from that tackle. He attempted comeback but suffered more injuries and operations. The classy captain and defensive maestro hung up his boots in 1981 – he should have had a few more years in him. Both Simulambo and Musenge became Life Members of FAZ (the Football Association of Zambia) earlier this year – both had experienced a long wait.